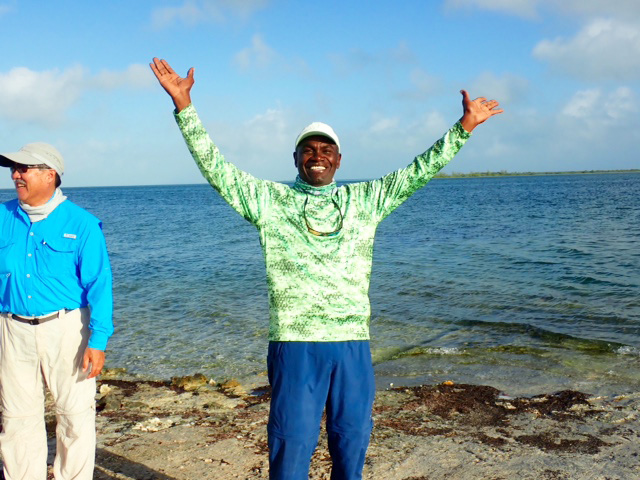 Elias, who oversees our six guides, was born and raised less than a mile from the launch ramp at Lowe Sound, which is where he lives with his wife and three children today. He got his start guiding 23 years ago under the tutelage of a local fisherman who was not a fly fisherman, but who took guests for many species on the Joulters. Somewhere he got shown how to cast and today he can throw a fly line a block with deadly accuracy and loves teaching clients the technique.
He has guided for most of the north-end lodges over the years and many of his trips were with Phillip Rolle as Phil's number one guide until Phil's untimely passing in 2020. If you were with a group of more than two anglers you probably have met Elias already. Elias also gets the natty-dresser award for North End guides. Skip the Simms, Patagonia and Columbia – he favors Harbour for that seasoned, provocative, well-dressed look on the flats.
When asked what he does in his free time when not guiding. his immediate response was to go fishing. When pressed "You mean after guiding 10 or more days in a row you go fishing on your day off? His answer was "Yeah, I got to go make those fish pay for what some of my less-skilled clients we're not able to get done in the last week". If you'd like to help "E" wage the anglers-versus-fish wars, he'd love to have you join the effort and fish with him.
Greg hails from the Stafford Creek settlement, which is located on the east coast of Andros about 30 miles south of Nichols Town. He has been guiding 26 years, well over half of his 45 years. He got his start at Kamalame Cove Resort when they recruited young fisherman to train as guides as the resort was just getting started and wanted to include Bonefishing as one of the many experiences this high-end resort wanted to offer. Over the years he has guided for most of the fishing lodges on North Andros while building up his own clientele.
Greg takes his guiding very seriously and whether the anglers on his boat are wanting to target a particular species, like Permit, just catch a bunch of Bonefish, or track down those double digit monsters, Greg is on a mission. Put your adventure on his "mission statement".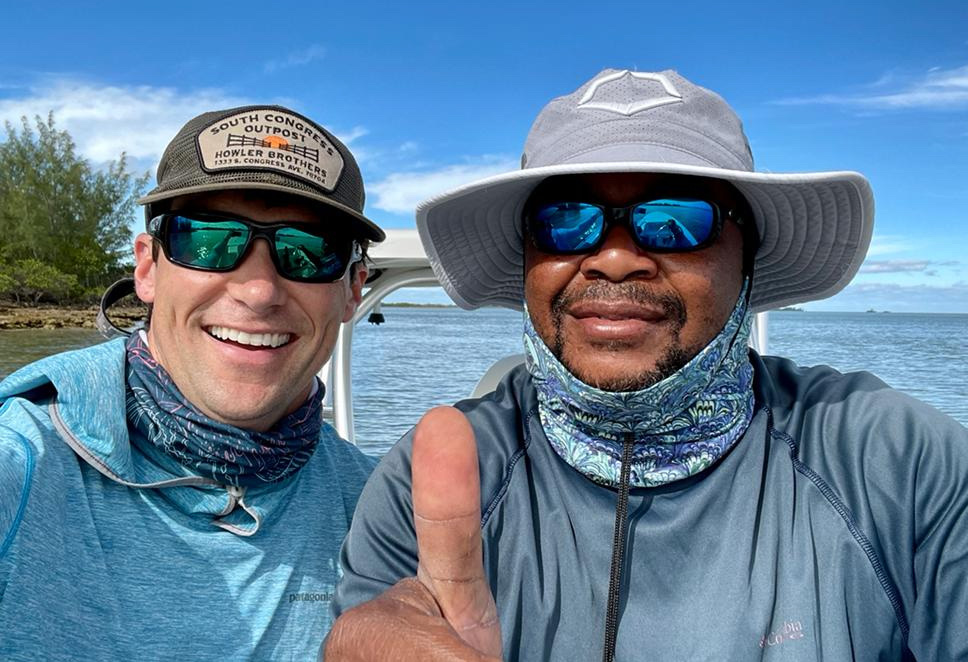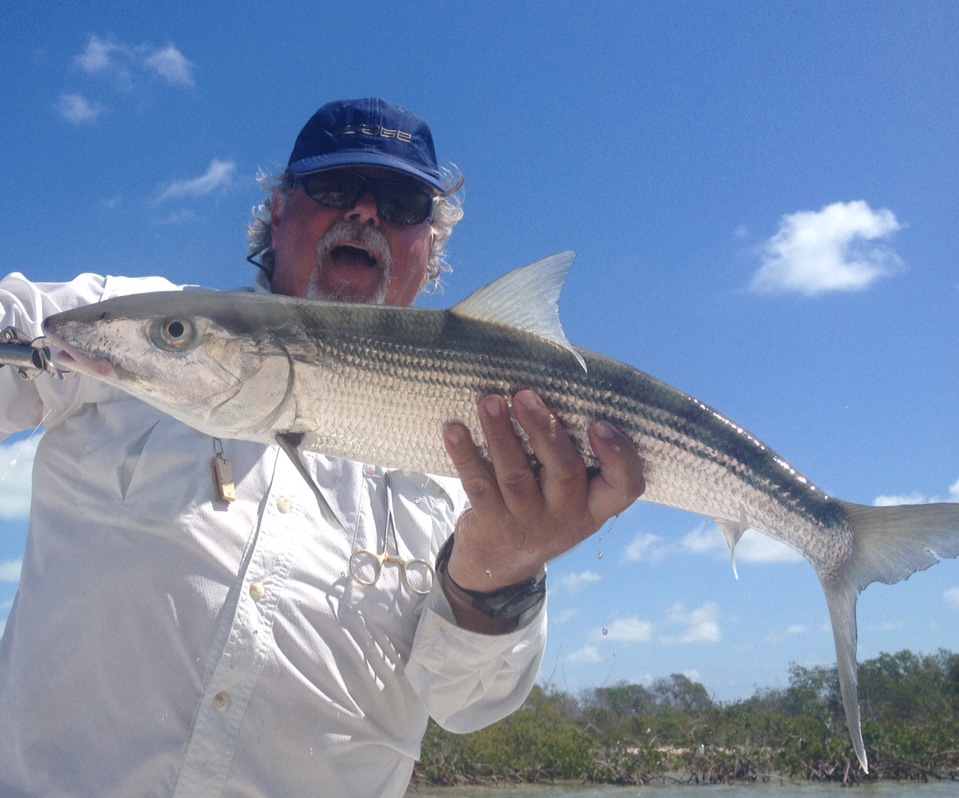 Partner, Booking and Admin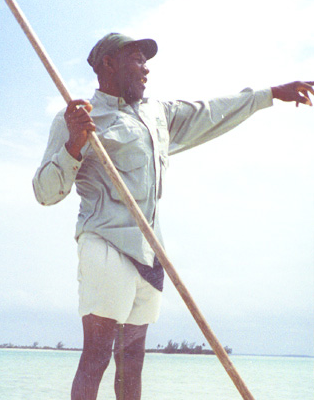 Besides being the guy you will talk to if you want come fish with us, my other job is owning The Troutfitter in Mammoth Lakes, California where I also was a guide for 20 years pursuing High Sierra Trout in the stillwater. So, how'd I get here?
I first came to Andros in 2000, staying at Stafford Creek Lodge just after it was completed and met Prescott Smith, a really first class operation and a really first class guy who could throw almost his entire fly line into a 20 mph wind with an effortless grace never seen.
From Stafford Creek, Prescott trailered us up to Lowe Sound and I got to see the Joulters for the first time. Wow! Wow, again! A hundred square miles of wadable white sand. Prescott put me with Arthur "King Arthur" Russell, now a legend, who passed in 2004 after guiding for over 50 years. Mr. Russell (all the guides call each other by their first names but in respect he was always called Mr. Russell.) For me he was the best bonefish guide there ever was when it came to finding fish no matter what the conditions. He'd always put you one those "Cadillac Flats" (that's another story for another time.)
With 18 guides, who guide out of my store in California, I can tell you with surety nothing tops years of experience on the water. The average number of years of experience for the six guides on this crew is over 18. They will put you on fish. Period. Give is a call or drop us an email and I would love to "Hook you up" for your next fly-fishing adventure.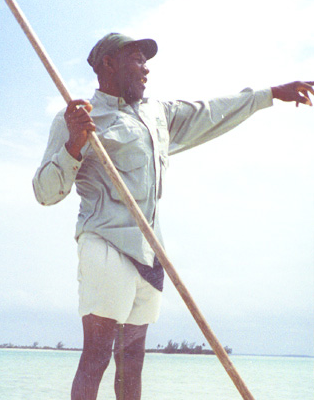 With 18 guides who guide out of my store in California I can tell you with surety nothing tops years of experience on the water. The average number of years of experience for the five guides on this crew is over 18. they will put you on fish. Period. Give is a call or drop us an email and I will "Hook you up" for your next adventure.
Makesha, or "Kesha" lives in Red Bays, the only settlement on the west side of Andros island. She is a descendent of the Seminole Indians who came to Andros in the early 1800's, some in large canoes, a nearly 200 mile trip over open ocean. If you look NW from the harbor at Red Bays you are pointing directly at Miami.
Red Bays is famous for natural sponges, shipped all over the world, as well as wood carvings and hand-made baskets that are wound so tight they are water tight. There are several in the lodge but more famous yet is Makesha's cooking.
Makesha is a world class chef when it comes to Bahamian dishes. Conch, prepared as many different ways as Bubba Gump's shrimp, lobster (she calls them crawfish) and fish dishes like Grouper fingers are headliners on the menu. If you ever fished and stayed with Phillip Rolle then you've had the pleasure of eating her food. She worked for Phillip and Betsy up until their passing in 2020.
The best testimony to her cooking prowess was the evening when the guides invited the clients to go out to the barbeque restaurant in Nichols town and they declined with "Skip the barbeque we're staying right here to see what Kesha has for us tonight."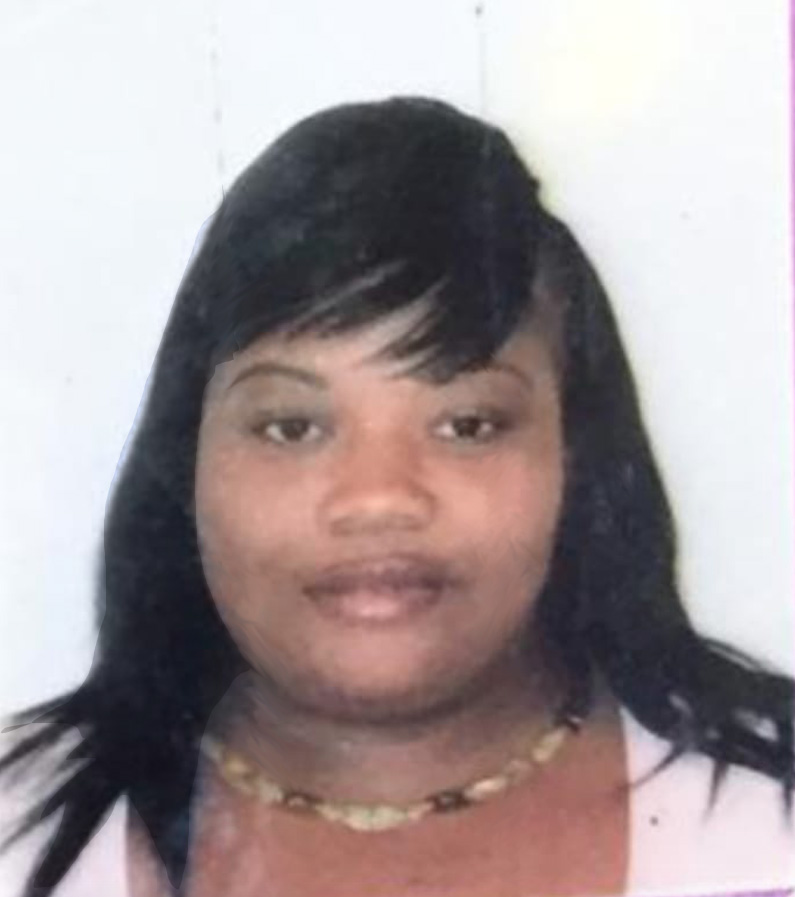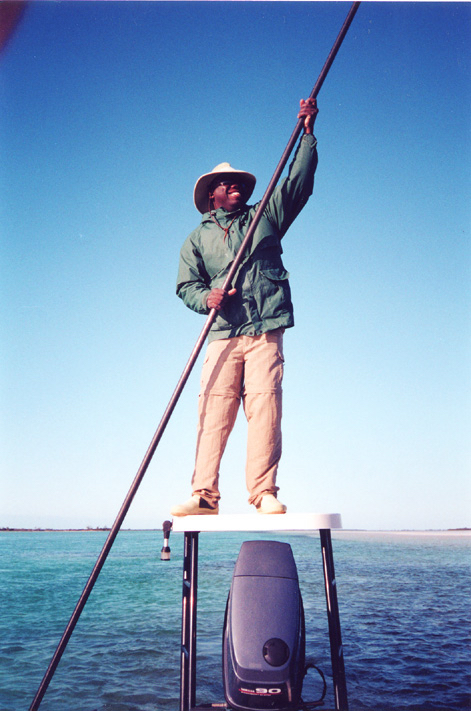 Friend and Colleague - A memorial remembrance.
When driving with Phil anywhere on the north end, you were constantly greeted by any and all with a shout to Phil, which immediately elicited that the big ol' Phillip smile and his patent "Hey, Hey!" That was Phil -nobody didn't like him.
The first time I met Phil he guided me on the Joulters. He showed up in an ancient Boston Whaler that had a thick layer of "brown patina" on every metal part on the boat. I was sure this was going to be a long day, and not in the good sense. We made the best of it keeping our lines from catching on every cleat and oarlock protruding from both gunnels and what do you know he put us on fish, big time, including one fish that was in the 9-10 pound range, which did get caught on something sticking out on the boat and my partner lost the fish.
Soon thereafter I cured that little problem and gave Phil a Maverick flats boat in trade for some astronomical number of guide trips he paid me off with over the next couple of years. Over that time we explored every nook and cranny of the Joulters together and he became my friend. On the day of his last "payment" we had champagne with actual glass champagne glasses at the Lowe Sound ramp and we all toasted Phil . . Free at last, free at last, God Almighty free at last. His boat was paid off!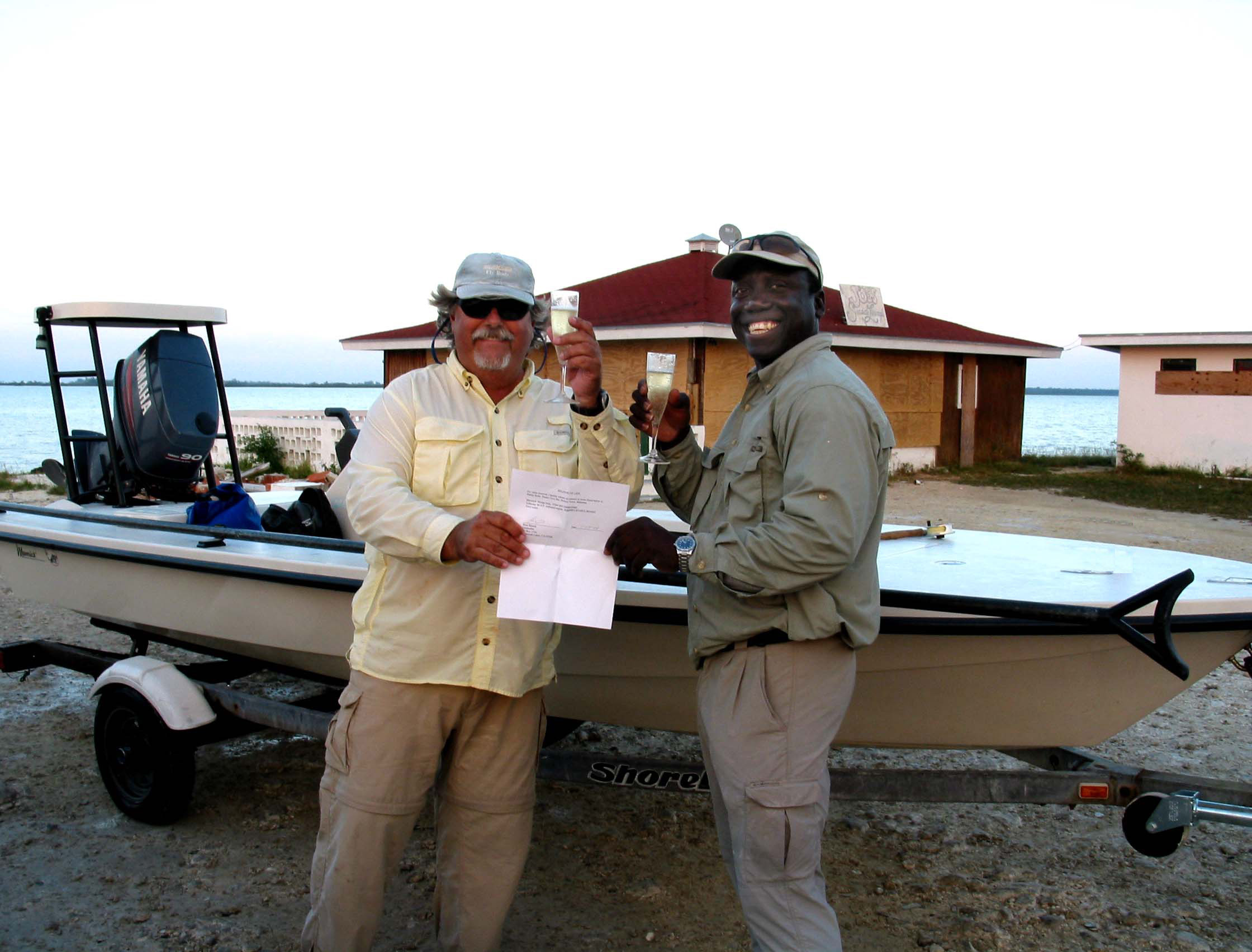 There was no stopping him now, with that great smile and hard work he became the most successful guide on the north end over the next 20 years. When Phil and his wife Betsy succumbed to the Covid in the summer of 2020 it was a huge loss to everyone on North Andros but also to all those of us who stood on the bow and heard him say "Big Bone, 2 o'clock, sixty feet". Let's toast Phillip one more time for the gift he gave to us all. "Hey, hey".
Ready to start
your next adventure?